Are you headed up north this summer? If you're in search of amazing views of Lake Superior as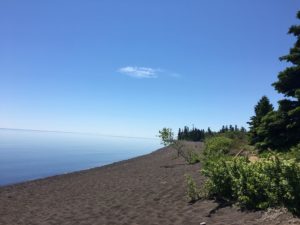 part of your camping trip, Grand Marais, a charming town in Northern Minnesota cannot be missed. There, you can see the details of the rocks through the clear water and camp in the vast woods along the shoreline. When in Grand Marais, make the extra drive to the Naniboujou Lodge and Restaurant. This historic landmark was formerly a private sportsman club in the 1920's that welcomed the likes of Babe Ruth. Once inside, the grandiose decoration, including the largest native rock fireplace, transports you back in time.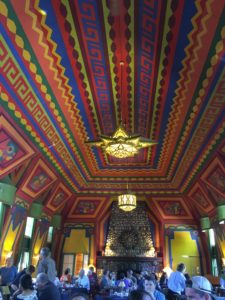 The decor and views are not the only things making the Naniboujou worth the drive. The lodge boasts a restaurant in its ornate dining room that offers a delicious menu to match. Happily, many of their items can be prepared gluten free for $3 more. I recommend going for lunch or dinner to try the delicious, homemade vegetarian wild rice burger – it's incredible! What's more, their generous servings will leave you full and satisfied.
Small towns can sometimes be tricky for people with dietary restrictions, so finding a place with options that are delicious to boot is no small discovery! What are your favorite small-town finds?Have you ever been to the Naniboujou?