Ah! the floating city: Venice is the charming Italian gem known for singing gondola drivers and romance. My partner and I opted to visit Venice after scoring an affordable flight deal with Vueling Airlines (little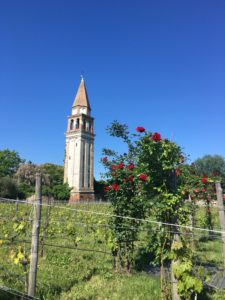 did we know that's where the budget-friendliness of this trip ended). Thus far, I had been pleasantly surprised by how gluten-friendly Italy is, and was looking forward to exploring the gluten free bounties of this picturesque city.
As expected, the availability of gluten-free options did not disappoint on the main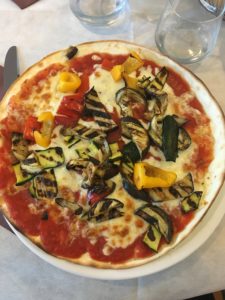 island of Venice (though admittedly it wasn't as delicious as the food in Rome). We tested one restaurant thanks to it's convenient location near the Rialto Bridge. Ai Scalzi offers many gluten-free options that they indicate are suitable for celiacs, though it is not a solely gluten-free space. I ordered the veggie pizza while my partner ordered the typical Venetian Squid Ink Spaghetti (non gf). The presentation of the pizza was well enough, but frankly it lacked in flavor. This restaurant had very pleasant waitstaff, however, who encouraged me to bring the rest of the pizza home in one of the boxes they use for takeout orders. Overall, this restaurant scores high in convenience (expect to be surrounded by fellow tourists), but less in taste.
Our stand out gluten-free discovery of our trip was Ristorante Vecia Cavana. Despite also not being a totally gluten-free space, this restaurant has been recognized by the Italian Celiac Association as suitable for Celiacs, and staff members were helpful and attentive to my needs. Tucked away, nestled into the alleyways of the canals, this restaurant was a treat, as is on the higher-end other restaurants we visited, but the quality of food did not disappoint. I started with a polenta dish, followed by a divine asparagus, prawn risotto, and finished with a gluten free tiramisu (!). We paired our meal with a fabulous Italian white wine and were offered gluten free (schar brand) crackers to replace the bread that usually accompanies. We left full and happy, enamored with our visit to Vecia Cavana.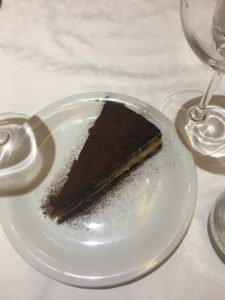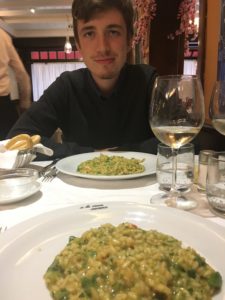 I should mention that we decided to stay in an airbnb and found an awesome, well equipped place on the island of Lido, a neighboring, residential island. Venice proper is frankly over-crowded with tourists, and we really appreciated staying a little off the beaten path. What's more, our airbnb host, Martina, was kind and helped us navigate the island, even picking us up from the boat station.
Lido offers its own crop of delightful restaurants including Ai Do Mati, which is off one of the main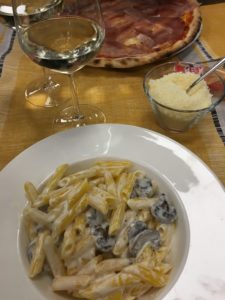 streets. We tucked into this buzzing eatery that was brimming with locals on a Friday night. Happy to see they had gluten free pasta options, I ordered a penne dish with white sauce and mushrooms. The meal was fairly good, but suffered from the eternal struggle with gf pasta that clumps together and seems simultaneously over and undercooked.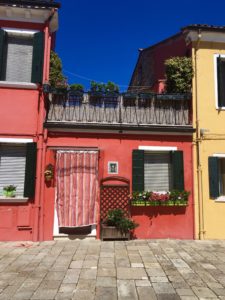 Another neighboring island we explored was Burano. Known for its adorable colorful houses, we spent a day here, and regretted not going back again. Because of it's smaller size and relative distance from Venice, we were not successful in finding devoted gluten free options here. Nevertheless, I would highly recommend visiting this exquisite island because of its beauty and charm. Thankfully, I was able to find caprese salads on just about every menu we saw on our trip, that are naturally gluten free. On the subject of naturally gf treats, don't forget to indulge in the iconic orange Aperol Spritz drinks and check out the Prosecco that is served on-tap.
Some final pieces of general advice I would offer: observe the gondola drivers before committing to one. We were lucky enough to found a man who offered a smooth ride and and sang to us in four different languages. Meanwhile, we nearly collided with other drivers who were literally texting-and-rowing, preferring their phones over engagement with their riders. Gondola rides are ludicrously expensive, so make sure you have the best experience. Speaking of expensive, make sure you understand the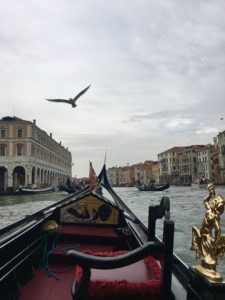 transportation ticket you take and that it's valid when you're on board. It is more costly than public transportation in other cities, but the fees for an invalid or expired ticket are ruthless. We saw multiple families shell out 300 euro paying high fees for every member in their family (and bad news, they don't buy the excuse that you are a tourist, and are willing to speak your language to collect their fee).
Have you explored Venice? What was your experience? Do you have any helpful tips or discoveries you'd like to share?