Whether you like to spend your vacations lounging on the beach, sipping wine, or strolling through picturesque streets, Porto, Portugal has something to offer everyone. I didn't know much about about Porto before our trip, but through our explorations we fell in love with this charming port-town.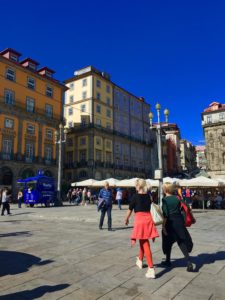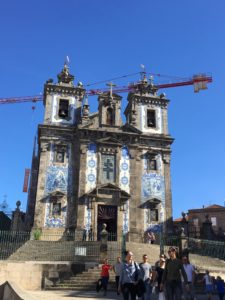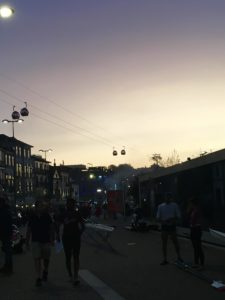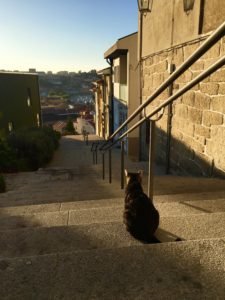 Porto is an ideal destination for travelers looking to extend their summer vacations. We visited at the end of October and were pleased to find that temperatures were in the 70's and everyday was filled with sun.
To get to know the city better, we booked a free walking tour with Porto Walkers and were very happy with the tour and our guide. Besides explaining the history behind the city and beautiful monuments, our guide took us to a chocolate bakery run by the Portuguese cutest couple. We followed the decadent smell through the alleyways before stepping inside their quaint atelier. Because their products only accessible to businesses, being on the tour was the only way to access their delicious desserts. My partner opted for the chocolate cake, while I took the chocolate mousse and we both agreed that it was the most delightful treat we had had in a long time.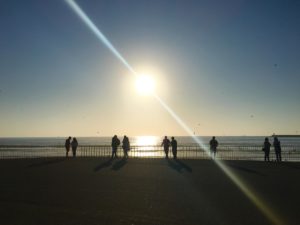 After our tour, we asked our guide how to get to the beach and navigated the bus system to take in some rays of sunshine. Because we went to the beach in the early evening, we didn't dare to go in the water for fear it would be too cold, but instead enjoyed watching the surfers from the sand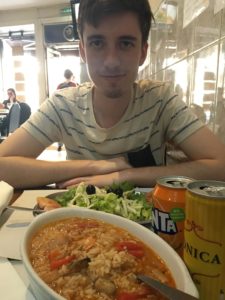 For gluten free explorers, Porto is a friendly city. We managed to find restaurants with labels indicating gluten free dishes. Also, many traditional Portuguese dishes are made from a base of rice and fish making them possible for diners avoiding gluten. Happily, the famous port wine is gluten free and often served with naturally gluten free snacks like olives.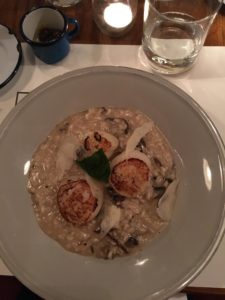 My favorite discovery was the Cantinho Do Avillez – Porto, a sophisticated restaurant with options for all. Their seasonal menu is complete with symbols indicating which plates are gluten free and vegetarian. We started with the famous porto tonicos white porto and tonic water, which became my favorite drink of the trip. As for food, I ordered the mushroom and basil risotto and for dessert we tested the hazelnut, which the restaurant claims is "life-changing." Both plates were excellent and we were very pleased to have discovered this gem.
Across the street from Cantinho Do Avillez is another restaurant that we wanted to try, but ultimately didn't have the time. DaTerra is cute vegetarian buffet. Their food looked delicious and the restaurant was full of people, but I was nervous to try because I wasn't sure if their plates would be labeled gluten free. We discovered they have a smaller version of their bigger restaurant inside the Mercado Municipal Da Beira Rio, a cute marketplace near the cablecar entry point.
Speaking of which, when in Porto, don't forget to take a ride on the cable car for views overlooking the city and water. We also took a boat tour which was a lot of fun. Last but not least, you can't go to Porto without tasting the wine synonymous with the city's name. You'll find tastings as part of the Porto factory tours and in smaller wine caves around the city. Most places offer various packages according to how many wines you want to try making the experience friendly for all budgets.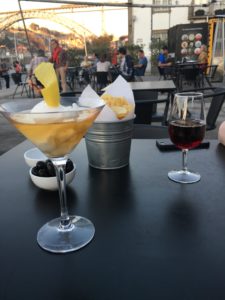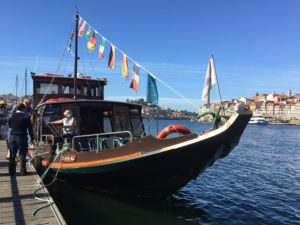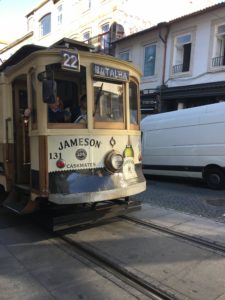 We were so pleasantly surprised by this adorable city- what cities have you been pleasantly surprised by? Have you ever been to Portugal? What did you think?