I often see other Celiacs that post about their travel hacks, especially for long haul flights. Even with the special meal requests, we've learned the hard way that we can't always rely on airlines to meet our needs. Today I wanted to share with you a review of United Airlines gluten-free dining options, to give you a better idea of what to expect, so you know how much you should prepare.
I had the opportunity to go home to the states two times in 2018 and flew United for both trips. I found these flights super affordably thanks to the tracking feature on google flights, which I highly recommend. For both flights, I added my special meal request immediately after purchase to be sure to be able have meal accommodations. Meal request usually must be done at least a couple of days before the flight. It should also be noted that airlines can only accomodate one dietary restriction or preferance. As a celiac who also follows a pescitarian diet, I can't generally count on being able to eat the whole airline meal because there's generally meat invovled, so that's something to consider for other travelers in the same situation. Despite flying with United for both flights, my meals were quite different.
August Flight:
In late August I flew from Paris CDG to Chicago O'Hare out of Paris terminal 1. For anyone who hasn't been to this terminal, know that it's much smaller than the larger international terminal 2E. This is great because security is much less of a hasle, but it also means the food options are limited. Once past security, there is a relay (a french convenience store) and a brioche dorée (a french chain bakery), and neither of these places are especially apt for gluten free fare. Because of the limited airport options (as well as the high airport prices) I would highly recommend bringing your own snacks. Once on the flight, the first drink service began, with flight attendants offering snack packs with mini breadsticks to accompany beverages. I wish airlines would offer an allergen free option for these snacks, but I guess you can't have everything!
For a main meal, I received a vegetable curry, which was surprisingly tasty and hapily gluten-free and vegetarian. This was accompanied by a salad and a non-gluten free bun, which I think was placed on the try out of habit, not considering the kind of special meal request. This was accompanied by a simple green salad. As a breakfast snack they gave a gluten free madeline cake and a rice dish with rasins. I personally wasn't a fan of the rice, but the madeline was a great addition.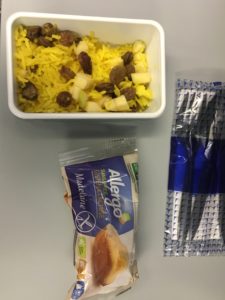 For me, this meal was a win since I could eat the whole thing and by airplane food standards, the curry pretty tasty.
The other flight I took was in December of that same year. This time around, dinner was a chicken and rice with some broccoli and a side salad and a pack of gluten free cookies – a great touch! For dessert, all passengers received a small ice cream, which was thankfully gluten-free! As a breakfast snack they distributed a fruit salad and another pack of gluten-free cookies.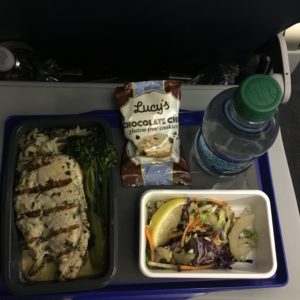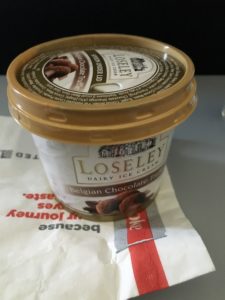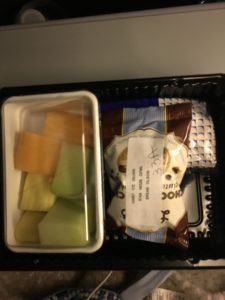 This meal had good attributes with the gluten-free cookies and ice cream, but of course the meal could have been improved.
Have you traveled with United lately? How would you review the food?
Till next time!