In Budapest I had the pleasure of not only discovering the renowned spas (that live up to expectations), but also the unexpected charm behind the former soviet facade. Let me tell you more about my visit.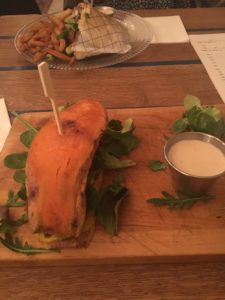 When researching Budapest, you can't miss information about the ruin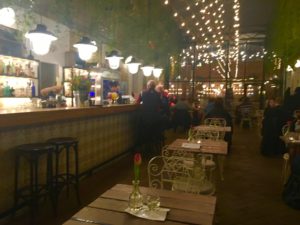 pubs. Good news for gluten free diners, these incredible places offer gluten free options. You can't miss Mazel Tov, a luminous restaurant whose menu stays true to its roots in the historically Jewish neighborhood. They do not specifically mark items as gluten free, but they offer seemingly gluten free salads, and I tried the delicious Falafel Veggie Burger that was complete with sweet potato slices acting as the bun without issue. Their food was delicious and this is a must visit!
We also went to Szimpla Kert, an amazing bar that offers typical pub fare with symbols indicating gluten free and dairy free options. We ordered a sort of fry bake meaning we got fries topped with grilled veggies and cheese. Don't expect a gastronomic experience, but this place is still worth a visit for the unique bar itself.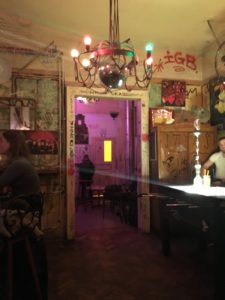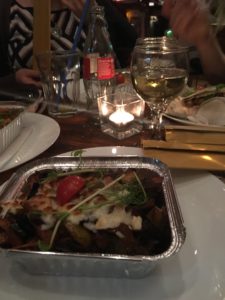 For a meal in the cutest setting you'll ever have, visit Vintage Garden, a restaurant torn from the pins of Pinterest (but actually just look at their precious instagram). They have symbols on their menu indicating low-carb, and I was able to clarify with our waiter which plates are gluten free. I had a delicious fish plate followed by a flourless chocolate cake, both of which I would recommend. Come with full battery on your camera to take advantage of their selfie corner and to capture the beautiful table settings.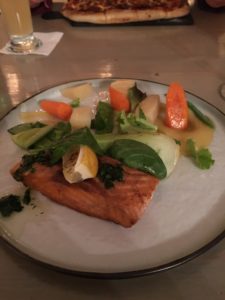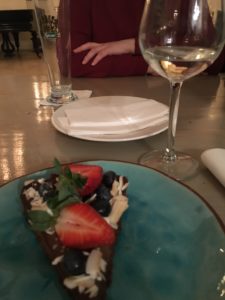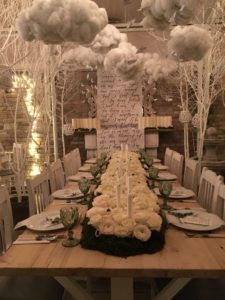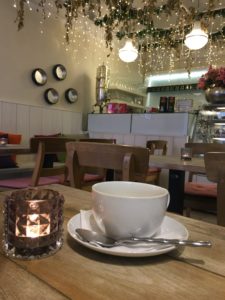 If you're looking for an adorable place to grab a cup of coffee, check out Arioso Café & Interiors, an innovative space that is part café, part interior decor shop, and part flower shop. As you can imagine, it smells divine and best of all, they have a flower ceiling. Order a coffee or chai and don't forget to check the pastry case for gluten free goodies. 
For a tourist free lunch, stop by the Hold Utca Food Market. The market combines traditional food stalls with fast fare food restaurants of all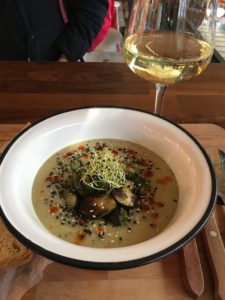 types. I stopped at one of the stands on the second level and found the owners knowledgeable and attentive to what gluten was and which products I could eat. Their menu changes daily, so it was not marked as gluten free, but they offered a brussel sprout soup which was delicious and a perfect way to warm up. 
An absolute must do in Budapest is of course a visit to the thermal baths. Know that there are more than one, so it could be a good idea to do some research before choosing which to visit. We ultimately visited Szechenyi Bath, the iconic yellow spa that is the biggest and most popular. You can book a massages and other treatments, which thanks to the conversion rate, are a really affordable way to relax. We booked the cheapest massage when buying our entry- I think it was the 20 minute thermal massage. Know that it's in a big hall with closed cubicles for each massage. I was a bit disappointed at the hospital feel to it and would have preferred to have lower lighting and a less noisy space- I'm not sure if all of the treatments take place here or if some are in more relaxing settings. Book ahead or arrive early to reserve a therapist of your preferred gender.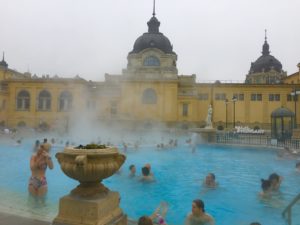 Perhaps not quite in line with the enchanting experiences that filled the rest of our trip, I would still recommend a visit to the House of Terror. A museum, that feels more like an innovative immersive gallery, places visitors in the thick of the fascist and communist regimes of Hungary's past. Be warned, as the museum's name suggest, your visit is likely to be an emotive experience. Each room evokes a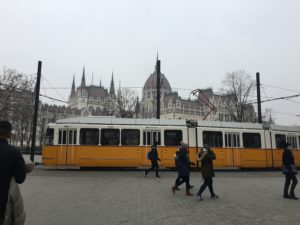 different feeling – fear, anxiety, despair making for a unique and moving experience.  I would recommend springing for the audio guide, you won't regret it.I've really never seen another museum like this!
Have you visited Budapest? What did you do? Where did you eat?