In need of a girls weekend, my best friend and I headed to Denver. As vegetarians, we usually have few options to choose from on a regular menu, and as a vegetarian with Celiac, my options are even more restricted. In Denver, however, we were thrilled to discover a haven for diners with dietary restrictions.
A simple search will reveal how many different restaurants, bakeries, and cafés offer gluten free, vegetarian, and vegan options are available in Denver, and  below I'll detail a few that I tried during our short stay.
City O City is a community hub complete with a cafe, bar, restaurant, and art displays. Their large space was filled with diners and for good reason. Their extensive menu is completely vegetarian and offers vegan and gluten free/gluten free upon request options. We came to this restaurant for dinner and breakfast and would have come back for lunch if given the time. The vegan, gluten free chicken and waffles were original and delicious! Check out their website out here.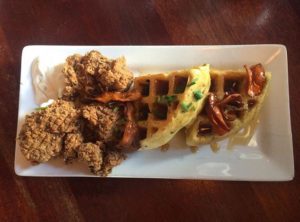 Are you looking for a delicious breakfast option? Good news! Jelly Café serves breakfast all day! Visit one of their two locations, or better yet order breakfast to you (a good option because their restaurants are quite small and the wait time can be significant). They offer gluten free toast, gluten free pancakes and most importantly gluten free donut bites. The donut bites might have been my favorite thing from this trip. Learn more about Jelly Cafe here.
 As Denver's original vegan restaurant, Watercourse foods,  offers "vegan comfort food," and complete their menu with soy free and gluten free options. They are conveniently located in the charming North Capitol Hill neighborhood. To find out more, click on their website here.
This list is only a few of the restaurants possible for travelers with dietary restrictions in Denver. Have you been to Denver? What did I miss during my stay? Comment below with your suggestions.