Has anyone else had the dream where they realize they accidentally ate gluten? I once dreamt I was at Mcdonald's and devoured a whole Big Mac before realizing that not only did it contain gluten from the bun, but also was a filled with a hamburger meat patty – in other words, this dream was a pescatarian with celiac disease's nightmare.
Luckily, my nightmares have not become my reality, and I have found multiple gluten free, veggie burgers in Paris that I want to share with you!
FrogBurger Bastille and Saint Michel
This is a British pub chain that specializes in brews and burgers. They have multiple locations throughout France, but not all have the same menu- the FrogPub locations do not offer a gluten free options–only the FrogBurger restaurants offer a substitution. FrogBurger has a veggie halloumi burger and with a soy wrap as their gluten free option. The "burger" made of the most delicious cyprian cheese and adorned with red peppers, arugula lettuce and a delicious pesto sauce. The wrap serves more as a vessel to contain the rest of the burger more than adding any taste, but a gluten free alternative for no extra charge is no small gift. Wrap and all, if I could eat this burger everyday, I probably would.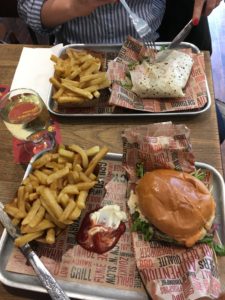 The far platter shows the veggie burger with the soy wrap. I couldn't bare to pause to take a photo before digging in.
Here's an option for any vegans allergic to gluten. This restaurant is 100% vegan and offers gluten free buns, but they do specify that there are traces of gluten possible. I love the allumé burger that is complete with barbecue sauce and peppers.
Have you found any other gluten free veggie burgers in Paris? Comment below with your suggestions.