When I was first diagnosed with Celiac disease, my first thought wasn't about all of the bread I would miss, but rather about the pizza I could no longer eat. Happily restaurants are offering more and more gluten-free pizzas! Here are some of my favorites we've found in Paris!
BigLove *
30, Rue Debelleyme, 75003 Paris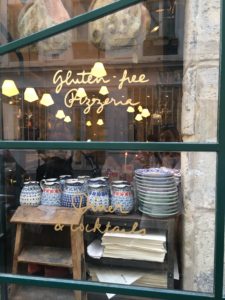 Part of the trendy Big Mamma group of italian eateries, only Big Love offers gluten-free fare. Like its sister restaurants, ingredients are imported directly from Italy and their staff greets visitors in their native tongue. Also like the other Big Mamma eateries, reservations are not taken and you'll recognize them by the line of hungry visitors waiting outside. These lines are not for nothing though – our experience was memorable for all the right reasons.
We went to the restaurant during the vacation period in France, and so were lucky
enough not to wait in any line. We entered the charming, cozy atmosphere and were immediately impressed by the delicious drink list. After ordering delicious peach bellinis, we started in on the menu. It should be noted that only their pizza is assured as gluten-free, though they do offer salads that might not have gluten-containing ingredients.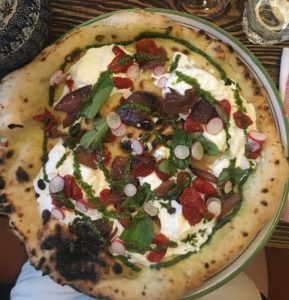 Our dishes arrived promptly and we dug in to the delicious fare. The pizza I ordered wasn't the typical pizza with red sauce and cheese, but was so much better! I opted to order the Burrata Sound System pizza that featured delicious cheese, pesto, radishes and caramelized onions, and was not disappointed with my choice. From my first bite, I understood why the line for this place is out the door – I can't say enough about how delicious it was! After our plates, we split a frozen yogurt with meringue dessert, which was perfectly refreshing for the summer evening we were there.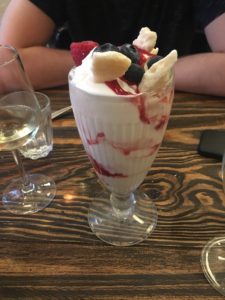 This is the perfect spot for date night or going out with friends. The atmosphere is warm and the prices are affordable. For a delicious, upgraded version of the freshest italian dishes go to BigLove!
* Important update! I have recently learned that BigLove uses deglutenized wheat in their pizza and thus their plates are not suitable for Celiacs.
215 bis boulevard voltaire,75011 Paris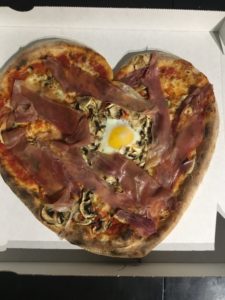 Looking for delivery near the bastille area? Hop on over to deliveroo and search the Caffé shop. Their gluten free option costs about 3 euros more and is worth every penny. An adorable heart shaped pie will arrive at your door meeting all of your gluten-free pizza dreams!
They also have a small restaurant near Voltaire in the 11th Arrondissement where Italian staff members greet you in their native tongue. There, they offer their heart shaped pizzas, but also pizza by the slice, and pasta dishes. Their risotto is gluten-free friendly and some of their deserts are gluten free too. A great option for any Friday night, caffé shop pizzas are a staple in any gluten free weekly menu
12 Avenue Niel, 75017 Paris
Check out this charming 100% Gluten Free Italian eatery near the Arc de Triomphe.
This restaurant is located in the trendy 17th arrondissement of Paris within walking distance from the Champs Elysee and the amazing Arc de Triomphe. In the walls of their cozy yet chic restaurant, they offer delicious pastas and pizzas made from scratch in house among other delicious starters and even better deserts- seriously! Check out their tiramisu or profiteroles, a traditional french puff-pastry (see photo!) that are to die for!
83 Rue Vaneau 75007 PARIS
16 Rue des Halles 75001 PARIS
34 rue Legendre 75017 PARIS
21 Rue de la clé des champs 93400 Saint-Ouen
86 avenue J.B Clément 92100 BOULOGNE BILLANCOURT
With 5 locations around Paris, these restaurants offering gluten free choices, are conveniently located for a nice sit-down meal. Their pasta dishes can be made gluten free for 1 euro more, or you can opt for a gluten free pizza for 3 euros. Know that these are not completely gluten free spaces, and thus are not especially suitable for Celiacs. Their "Les Halles" location steps away from the central Chatlet metro station and are good options for any busy traveler circulating the city.